Professional vehicle tracking systems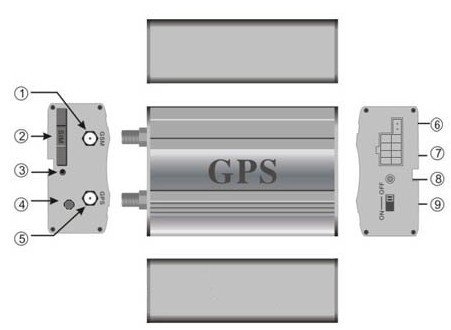 GSM GPRS GPS Tracker Global smallest tracking device monitor Hot TK103
No Software use Fee, No Contract, No Activation Fee
Our GPS103 is a easy to use and install gps/sms/gprs vehicle trackers,it can be installed on Bus, taxi, truck, personal car, business car, all support 9~36V.
It working Based on existing GSM/GPRS network and GPS satellites, this product can locate and monitor any remote targets by your cell phone, PDA or PC.
It can work in all over the world,the best feature of it different from other vehicle trackers are , Get street name from cell phone , configurable by pc remotely terminal ,get car door ,window ,etc status via SMS.



1 X GPS Tracker
1 X GPS Antenna 5 meters long
1 X GSM Antenna 3 meters long
1 X Harness
1 X User Manual
1 X CD (GPS Manage Software)
Detailed description,
It is based on GSM/GPRS850/900/1800/1900MHZwireless telecommunication internet and GPS satillite global position system,track by several ways.provide monitor software and global map.real-time track through the monitor software in your pc;track through your PDA cell phone and googleearth.
Features and functionsSmall cubage,dimension:54mm*62mm*26mm,weight:120g,easy to hide.
Support orientation without orientated server: it can find out Real-time longitude and latitude, time and speed. By using public map software and entering longitude and latitude manually, you can find out the real-time information of position.
If the target you are inquiring enters into underground parking lot or other GPS blind area, the tracker will inform you the last orientation.
Remote Engine-stop and Resume.
tracking function by timing and frequency
Authorized number added and deleted function
Support hidden alarm and monitor function
Geo-fence: Set up a geo-fence for the unit to restrict its movements within a district. The unit will send the message to the authorized numbers when it breaches the district.
Power supply disconnection alarm.
Door alarm
ACC alarm
Movement alert: you can set up barriers when the vehicle is stopped. Once moved, it can give an alarm to the authorized number.
Over speed alarm: you can make the inspected target run according to fixed speed. It alarms when speed is exceeded.
Low batttery alarm function
Check the vehicle status
Optional functions:Quiver alarm
Applying directions:
Vehicle fleet/logistics/Vehicle rental

Technology parameter:GPS chip: SIRF3chip
GPS sensitivity: -159dBm
GPS accuracy :5m
Time To First Fix Cold status 45s,Warm status 35s,Hot status 1s
Harga : RM320
Pos Laju : RM10
Berminat ; hubungi
0139286380